The St Roch IVF Center
carries out its infertility activity within the St Roch Polyclinic.
We are an Integrated Human Reproduction Center designed to bring all the steps of the clinical and biological activity of human reproduction together in one location.
St Roch IVF Center is a multidisciplinary centre with a number of professional teams working in specialized fields.
In France, IVF treatment is by law subject to Government approval with national assessment checks by the Biomedical Agency.
In order to keep this approval, we are required to offer clinical and biological protocols in line with the latest technical advances and quality requirements.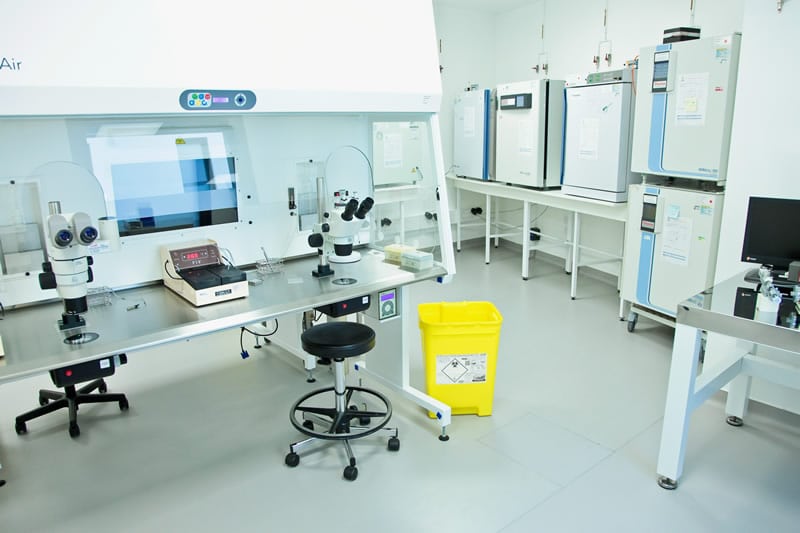 The Center takes full advantage of on-site medical expertise in the various specialties necessary for proper treatment.
The nearby availability of technical means insures that you receive thorough and safer care.
Since September 2007 the laboratory is located in new facilities to meet the latest advancements in the improvement of embryonic cultures.
Indeed, the implementation of the new laboratory takes into particular consideration the recent scientific findings into the negative effects of certain environmental factors.
Since May 2017, we have carried out IVF with time lapse technology (embryoscope) on request.
The package price does not include medications, and the cost of medication will depend on the amount required by each patient.
1st visit:
Consultations, counselling, pre-treatment investigations and screening tests:
initial consultation with gynæcology co-ordinator: € 100
pre-anæsthesia consultation: € 50
initial consultation and screening tests with biology co-ordinator: male and female partner € 700 to 900 euros:
o counselling: free
o male semen analysis + screening tests: € 100
o female hormonal screening tests (Estradiol, FSH, LH, Progesterone, Prolactine): € 75
o male and female caryotypes: € 430
o male and female serologies: € 170
o 3 female hormonal monitoring tests: € 175 (additional dosage € 75)
2nd visit:
Monitoring and IVF:
Gynæcology co-ordinator: € 250
hospitalization: € 640
laboratory:
o IVF or ICSI +/- Embryo Cryopreservation (includes storage for one year) Hormonology: € 800
o Embryo Storage (annual renewal fee): € 50
o FET (Frozen Embryo Transfer): € 50
Example: 1st attempt with 1st and 2nd visit for ICSI and Embryo Cryopreservation: € 2,600 to 2800
In the event of cancellation of the puncture: € 350
Test pré IMSI: 100 euros
IMSI : 200 euros
Embryoscope (Time Lapse technology) : 250 euros
Our Results
| | | | |
| --- | --- | --- | --- |
| 2000–2015 | IVF | ICSI  | FET |
| Number | 5715 | 10443 | 4806 |
| Pregnancy rate / transfer | 31.1% | 30.7% | 24.1% |